Modern Radio Drama tends to cluster in two basic genres, both of which depend on imagination. There is speculative fiction -- science fiction, fantasy, and horror -- and humor. Most audio humor is weighed towards satire or farce, over the top and around the bend. And then there is Great Northern Productions new CD, "Permafrost, MN."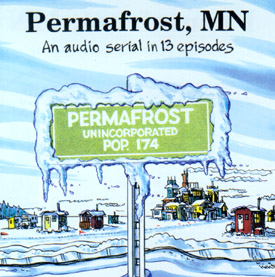 Written by Brian Price and Jerry Stearns, "Permafrost" achieves that rarest of comedies, whimsey. Think of "Lake Woebegone" scripted by Lewis Carroll. Due to something called the Micro Climate, the temperature in Permafrost, MN -- population 174 -- is always zero. It is the home of the Twice Frozen Ice Company and the Frozen Fillet Cafe. It is also the home of the gentlest collection of eccentrics this side of "Northern Exposure."
The first thirteen three minute episodes concern a petition to make Permafrost's Frozen Lake Minnesoda's Ten Thousand and First Lake. Except it seems to be stolen. Maybe. Or just stacked under another one. Kinda.
But it is the characters that lifts "Permafrost" out of the ordinary.
There is Bux Hootkins, who is building the worlds first Victorian Ice Fishing Shack.
Melody McCleod, mail person and compulsive fibber.
Edna Johnsen- Johnson -- please note the spelling, it's important --
who lives in a house with one half in winter the other in summer.
Then there is Petey Pie and Les Decksia and Bertie Two Shoes.
But most of all it is Finch Shelmerdin, played by Irene Ruderman. Finch, a first year art student, narrates each episode with every young person's mixture of embarressment and affection for their home town. A delightful sub-plot deals with her attempt to find out why her parents named her after a bird. Finch's narration is brought to life by a superb cast of actors including Donna Alexander, Don Cosgrove, Rebecca Fay, Carolyn Press, David Hennessey, Bean Johnson, Mark Sulander, and Jerry Stearns.

There may be warmer places than Permafrost, MN but you won't find a nicer one. Bring an overcoat and maybe Les Decksia will show you his slide show on the Year of the Giant Snowflake.